Sunday April 15th, 2001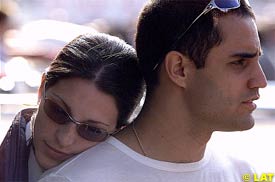 Colombian Juan Pablo Montoya made his first Formula One pitstops on Sunday but did not enjoy the experience.
The 1999 Indy Car champion suffered his fourth retirement in succession after making a nightmare second stop in the Williams that forced him to sit in frustration in the pitlane for a minute and eight seconds. Montoya is the only driver not to finish any race so far this year.
"Again I could not finish the race and again I am disappointed," said Montoya, who had earlier in the week tempered the hype surrounding him by pointing out that he had yet to make a pit stop in his fledgling F1 career.
"When I stopped for my second pit stop I had a problem with the clutch and I could not get any more gears. I went out of the pits but I was stuck in first gear and all I could do was drive back into the garage.
"We've been quite unlucky so far but these things happen."
Montoya's German team mate Ralf Schumacher, brother of world champion Michael, won the San Marino Grand Prix to confirm the promise shown by the BMW-powered car after Montoya had led for half the last race in Brazil.
The Colombian might have won that race at Interlagos but went out after Dutchman Jos Verstappen, driving an Arrows, hit the rear of the Williams as Montoya lapped him.
---