Thursday April 19th, 2001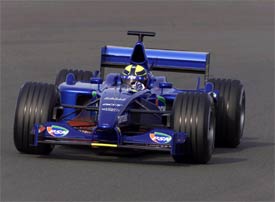 The Prost team have made a swoop for Luciano Burti just one day after it was announced that the Brazilian Jaguar driver would be replaced by Pedro de la Rosa next year.
Burti believes his Formula One future will be helped by a long-term relationship with the Prost team, and will now leave the Jaguar squad immediately to replace the struggling Gaston Mazzacane at Prost.
"It was the best option to my future in F1," Burti said on his website. "I have been talking to Alain since the Brazilian GP but I didn't imagine that I would drive for the team this season as I had a full year contract with Jaguar.
"But it was definitely the right thing to do as I can now be in a team that give me great perspectives for the future."
Burti added: "I am and always will be grateful to Jaguar Racing as they gave me a chance to show my skills in F1.
"But as Niki Lauda recently said, the team has already two drivers for 2002 and, even though Jaguar had assured me I would race this entire season, I'd prefer to go to a team that I can develop in the long-term.
"It is an honour to have a driver such as Alain, four time world champion, recognising my job. That's very encouraging and I'm looking forward to reward him with good results in the next races."
Though there's still no official confirmation from Jaguar, it is expected that de la Rosa will replace Burti for the remaining part of the season.
"It was a well-timed series of events," said team boss Prost. "As soon as it was clear Gaston was no longer driving for us, it was evident to us that Luciano Burti would be a good replacement and negotiations were done quite quickly.
"Luciano has already shown good potential so far this season " he continued "I am sure that, as the AP04 will develop in the races to come, he will be given all the means to prove himself and to be a competitive team mate with Jean Alesi.
"Furthermore, the choice of Brazilian Burti fits one of our marketing strategies: to focus on South America, where we have many interests and opportunities, thanks to our partners PSN and Pedro Diniz.
"Prost Grand Prix team thanks Gaston Mazzacane for his commitment and support and wishes him all the best for his future" Prost concluded.
---