Friday April 20th, 2001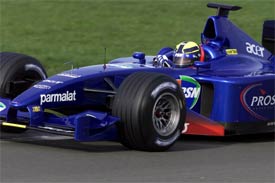 A day after leaving the Jaguar team to join Prost Grand Prix, Brazilian Luciano Burti admitted he will miss his former friends at the Milton Keynes-based outfit.
In a surprising move, Burti announced on Thursday he was leaving Jaguar to replace Gaston Mazzacane at Prost, leaving his seat to Spaniard Pedro de la Rosa.
Though he claimed the move was the best option for his future in Formula One, Burti said he will miss working at Jaguar.
"I always had good friends there since I first drove for the Paul Stewart Racing, at 1997, during the F-Vauxhall season," Burti said. "People in the race team, in the test team and in the factory have always respected my job and have always been kindly to me.
"Being part of Jaguar since its first official day of racing was really special for me. I had a very good relationship among the team: the mechanics, the engineers, the marketing and PR people, all the staff really. They work very hard and I honestly wish them a very good luck for the future."
On Friday, Burti visited the Prost Grand Prix factory in Guyancourt, France, and he said he was very impressed with the team's facilities.
"It was really nice to see that everybody is working hard to make the car more competitive," added Burti, who tested the AP04 for the first time on Thursday at Silverstone. "I had a very good first impression of the team.
"The atmosphere in Prost is really amazing and I'm looking forward to my race debut for the team at the Spanish GP."
---