Wednesday April 25th, 2001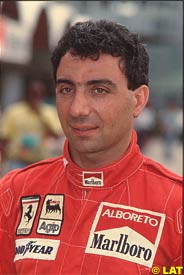 Former Formula One driver Michele Alboreto was killed on Wednesday following an accident while testing in Germany.
Alboreto was killed at 17:30 at the Lausitzring circuit in Germany while he was preparing for this year's Le Mans 24 Hour race, driving an Audi R8.
According to the official statement from Audi, Alboreto was driving down the straight of the circuit when a component of the car failed, sending it off the track at high speed.
"We will do everything in our power to find the reason for this accident," said Audi Motorsport boss Wolfgang Ullrich. "We can't understand what happened because that car had already covered thousands of kilometers without a problem.
"But right now our thoughts and condolences are with Michele's wife Nadia, his two daughters, and his whole family."
Ferrari president Luca di Montezemolo has been one of the first Formula One members to express his sorrow upon learning the news.
"Michele Alboreto played an important role as a driver in the history of Ferrari," said di Montezemolo. "He was intelligent and paid a great deal of attention to the technical problems involved in the development of the car. His death has been a hard blow to take and has filled me with a deep sadness.
"Michele continued to race, driven on by an irrepressible passion, proving that in our sport which is totally involving, risk is always around the corner."
Alboreto started racing in 1976, made his Formula Three debut in 1978 and won the European title in 1980.
The Italian was given his Formula One chance by Tyrrell in 1981 and won his first Grand Prix in Las Vegas the following year.
Alboreto also won the U.S. Grand Prix for Tyrrell in Detroit in 1983, the last victory for a car with a normally aspirated engine before the turbocharged cars monopolised the competition.
He switched to Ferrari and won the Belgian Grand Prix in 1984 and the Canadian and German Grands Prix in 1985 when he finished second in the drivers' championship behind Alain Prost.
That was the zenith of his Formula One career. He returned to Tyrrell in 1989 and drove for a succession of teams -- Lola, Arrows, Footwork and Minardi -- before bowing out of Formula One in 1994 and moving to sportscar racing.
---