Wednesday April 25th, 2001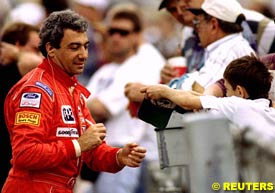 Ferrari president Luca di Montezemolo led the tributes to Michele Alboreto on Wednesday, as the Italian racing driver's family struggled with the shock of his death. Alboreto, a former Ferrari Formula One driver, was killed after losing control of his Audi R8 while testing in Germany in preparation for this year's Le Mans 24-hour race.
Montezemolo expressed his sadness, saying: "Michele Alboreto played an important role as a driver in the history of Ferrari. He was intelligent and paid a great deal of attention to the technical problems involved in the development of the car. His death has been a hard blow to take and has filled me with deep sadness. Michele continued to race, driven on by an irrepressible passion, proving that in our sport, which is totally involving, risk is always around the corner."
Alboreto's family was stunned by the news. His cousin Marisa told ANSA news agency: "You can't imagine what we're going through as a family. We're really distraught. We're all very confused, try to understand. I'm here to be close to the family, to the kids. We found out this evening what happened... Amid this great pain we're trying to sort things out."
Alboreto was also remembered for his role in the trial which followed Ayrton Senna's death at the 1994 San Marino Grand Prix at Imola. Federico Bendinelli, former manager and president of Sagis, the firm that runs the Imola racetrack, said: "I'm deeply saddened by Alboreto's death. At the time of the trial over the death of Senna he was an authoritative, precise and important witness, a person of very great moral standing."
Team founder Enzo Ferrari, who died in 1988, had broken one of his own rules in taking on an Italian for his team. Ferrari said at the time: "My feelings for Michele Alboreto are well known. He's a youngster who drives so well, (makes) few mistakes... He's fast, with a good style: gifts that remind me of (Wolfgang) von Trips, who Alboreto resembles even in his educated and serious demeanour."
Alboreto had plans to hand on his great experience to aspiring young drivers. "I have a project to build another Formula adapted to moulding young drivers," he announced recently. "I'm discussing it, but I'm finding some obstacles."
---