Thursday April 26th, 2001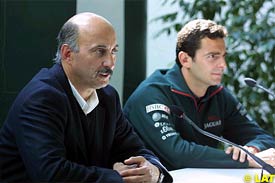 Spaniard Pedro de la Rosa is setting his sights low and simply hoping to finish at his home Grand Prix this weekend as he makes his debut for the Jaguar team.
De la Rosa, who raced 33 times for Arrows before being dropped at the end of last season, replaces Brazilian Luciano Burti at Jaguar, but had hoped to gain more knowledge of the Jaguar before his unexpected race debut.
"I am aware that I would have liked to make my debut with more kilometres driven in the Jaguar," said De la Rosa. "But you can never let these opportunities go, and I'm not going to give up and I am not going to give it a second thought.
"I only hope I can finish because I couldn't do so last year and this time I know I can rely on the Jaguar F1 car. If I finish I am sure it will be within the top ten."
---