Thursday April 26th, 2001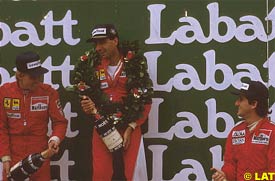 Formula One paid tribute to Michele Alboreto on Thursday as a friendly guy with an unquenchable passion for racing. Alboreto, in 1985 the last Italian to win a Formula One race for Ferrari, was killed at the Lausitzring circuit in Germany on Wednesday while testing an Audi sportscar. He was 44.
"I knew him well from my days when I was racing. He was a very nice guy, always friendly," said Jaguar Racing boss and triple world champion Niki Lauda. "He enjoyed racing - you have to realise that motor racing is dangerous. If someone is in the sport and thinks nothing can happen then he is wrong. These things can happen."
Former Ferrari driver Lauda quit Formula One, saying he was tired of driving around in circles, in 1979 after almost being killed in a fiery crash at the Nuerburgring in 1976.
"He (Alboreto) knew the risks involved. He did it because he liked this sport. You have to enjoy driving these cars on the limit. It's basically what you are here for," Lauda said. "For sure he didn't have to do it for the money or whatever. He enjoyed being a racing driver. He was not old for driving these sort of Le Mans cars. He was there for the pleasure."
True Friend
Rene Arnoux, Alboreto's Ferrari team mate in 1985, told Italy's Gazzetta dello Sport that he had often asked the Italian why he did not call it a day.
"And his only reply was to suggest I drive too. 'Go on, try it too. These sportscars are easy to drive and you feel like you're in Formula One.' He was a true friend," said the Frenchman.
Pierluigi Martini, Alboreto's team mate at Minardi in his last of 14 seasons in Formula One in 1994, said he had also urged his friend to retire.
"I also told him to quit, with the career he had behind him what more could he have wished for?" the Gazzetta quoted him as saying.
Riccardo Patrese, whose career overlapped most of Alboreto's, told the newspaper he had also lost a true friend.
"But what hurts me most is thinking that he was really only racing for fun, he was doing it out of passion," said Patrese. "Michele had a thousand other interests but he never quite managed to do without it (motor racing)."
Alboreto also received a glowing tribute from Ralf Schumacher and Mika Hakkinen on Thursday.
"I knew him by name and what he was doing and heard only this morning about it," said Schumacher. "I heard it was a bad accident at high speed in testing and it's very sad."
Hakkinen added: "It's very sad. A terrible thing. I understand he had a wife and two kids and was only 44-years-old. He had a lot of his life in front of him. It is bad for him and for motor racing."
Audi chief executive Franz-Josef Paefgen, expressing his "personal dismay and deep sadness", said: "Michele Alboreto was a particularly important part of our motor sports programme.
"His great experience played a decisive role in the successful development of our Audi R8 sportscar. His calm and considered attitude was an enrichment for the whole Audi Sport team.
"We have to lament the loss of a great motor racing personality. My thoughts in these difficult moments are with his family."
Alboreto was the last Italian driver chosen to drive for his team by the late Enzo Ferrari and he won three races for them, finishing the 1985 season as runner-up to Alain Prost. The Gazzetta reprinted Enzo's words when he first hired his compatriot on September 26, 1983.
"He is a driver I consider ideal for Ferrari," he said. "I have Alboreto because he is a good driver. He is a man who is never discouraged, an optimist by nature.
"And that's fine by me."
---