Thursday April 26th, 2001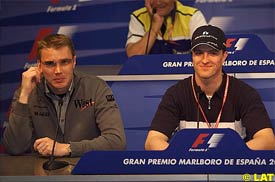 McLaren's Mika Hakkinen vowed to fight his way back into the Formula One title battle on Thursday, but conceded it would be a tough task. The two times world champion hopes Sunday's Spanish Grand Prix, the fifth race of the season, will put him back on the winning track after a disappointing start in which he has scored just four points.
"If you maintain the speed and consistency you can be there at the end of the season," said the Finn. "But having such a big gap at the moment it is very difficult to start working hard and really trying to perform 100 percent all the way.
"To reach the same point where the leaders are at the moment is a very, very difficult goal. Okay, I do have experience from last year but again it's going to be very difficult to be there fighting at the end."
Hakkinen lags his British team mate David Coulthard and Ferrari's world champion Michael Schumacher by 22 points and he hoped Barcelona would mark the real start to his season.
"It is definitely nice to come here," he said. The Finn has won in Barcelona for the last three seasons, and last year the race marked the start of his fight back against eventual champion Michael Schumacher from 22 points behind. He clawed back the deficit and took the lead before Schumacher went on to win the title in Japan, the penultimate race of 2000.
Hakkinen said the new rule changes introduced for Barcelona -- the return of traction control, launch control and automatic gearchanges -- filled him with enthusiasm. "I have been enjoying enormously testing and playing with the new things," he told a news conference. "So I am very optimistic and positive about this Grand Prix."
Valuable Experience
He said the experience of last year had given him confidence and strength to cope with his current situation. Hakkinen also praised Coulthard for his strong start and refused to be personally downhearted.
"It is encouraging in one sense, David has had a fantastic start to the season ... every time on the podium and winning in Brazil, he has done a fantastic job for himself and the team. That result has obviously given a lot of motivation for the team to work harder and find solutions to make the McLaren handle a little better."
Hakkinen, who has not been on the podium in five races and last won in Belgium in August 2000, said it was always vital to finish on the podium in a race.
"You never know what is going to happen this year. I can only look to myself to be professional and optimistic and work very hard for the team."
Hakkinen, who has said he got depressed last season before his form picked up, was also asked how tough it was mentally for a driver who had won the title to pick up the beat again.
"It's a very good question but I don't think it's the right time for me to start explaining," he said with a smile.
---