Thursday April 26th, 2001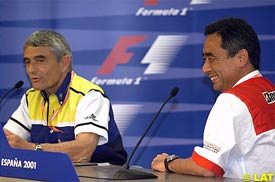 Formula One Grands Prix ran at slow and twisty circuits like Monaco are likely to be very different this year as a result of electronic traction control returning to Formula One, Michelin motorsport head Pierre Dupasquier said on Thursday. But he added fans might not notice much of a difference at the high-speed tracks.
"The main area of traction control is when the wheel is spinning. If you don't have any spinning, you don't need it," Dupasquier explained at the Spanish Grand Prix when asked how the systems would affect the tyre manufacturers.
"So on circuits where you have a lot of stop and go, it is very different. But, apart from the start where it is very important, if the circuit is high speed and doesn't oblige you to go under third gear then traction won't change a lot. Monte Carlo will be significantly different. But not too much here."
Michelin returned to Formula One this season after a 17-year absence, reigniting the tyre wars with Japan's Bridgestone, and won with Williams' Ralf Schumacher at the last San Marino Grand Prix. However, Dupasquier warned that Barcelona was a completely different circuit to those used so far this season.
"How different, we don't know because everything has changed since we were here for testing. The cars have changed, the engines have changed, the drivers are the same but maybe a little bit more different now. We have to rebuild everything. We have done things and hopefully we will be on target, but it's not sure at all."
The Spanish Grand Prix is the first since the end of 1993 with legalised electronic driver aids -- traction and launch control and fully automatic gear changes.
Traction control helps prevent wheelspin and slides at race starts and on the exit from corners as well as improving grip in the wet. Monaco, a street circuit with tight corners, is therefore likely to be affected more than most tracks.
---