Friday April 27th, 2001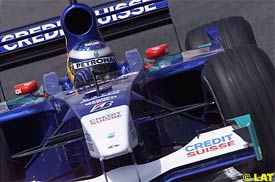 The Sauber team admitted they still need to work on their traction control system after posting the 11th and 12th fastest times on Friday's free practice session for the Spanish Grand Prix.
Rookie Kimi Raikkonen, who ended the session ahead of his team mate Nick Heidfeld, said his Petronas-powered car was still struggling for traction, despite the new regulations which came into play today at the Barcelona circuit. The young Finn also admitted he was still enjoying driving the car despite the electronic aids.
"I still had some wheelspin today as the car lacked traction and felt a little nervous in places," said Raikkonen. "But we didn't do so badly, with 11th fastest time.
"People say that traction control takes the fun away for the driver, but the fun is always there and the system will make life easier and quicker once we have it figured out. I'm sure we can do good things tomorrow."
Heidfeld too admitted they still have work to do, but the German added he felt optimistic for Saturday's qualifying session. "Mechanically I had no problems today, but we still need to do some work on the electronics for the traction control system," Heidfeld said.
"There´s quite a lot more work involved for us initially in setting up the system, but I'm sure it will make things better once we are fully accustomed to it. I'm quite optimistic for tomorrow.
---