Friday April 27th, 2001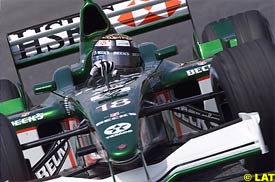 Ulsterman Eddie Irvine has said operational improvements have put Jaguar back on track, but does not expect to go as well in qualifying as he did in Friday practice for the Spanish Grand Prix.
Irvine put his performance down to a good set of tyres, but added that the team has definitely improved since the start of the season.
"I wouldn't want anybody to read too much into our times today, but things have certainly improved on an operational level," he said. "I am working well with Pedro (de la Rosa), but it is too early to comment on his performance."
However, Irvine believes that many teams are not up to speed on traction control and that the Jaguar squad have done a good job.
"I know that many people suffered at the hands of traction control today but we had no problems," said Irvine. "It seems to be working well for us, but it will be interesting to see now it manifests itself over a race distance."
De la Rosa, meanwhile, simply spent time getting used to his new role in the team after the messy off-season he suffered. He was due to be racing for Arrows but was dropped unexpectedly and left without a race seat. He moved to test for Prost, but sensationally left to become test driver with Jaguar, then replaced Burti this season.
"I was angry," he said. "All racing drivers want to race and you have been training and testing and getting ready and then you are upset and have to look for another drive. If you are good enough you push and you keep working and that is what I did and here I am."
But De la Rosa stopped short of taking the credit for pushing his team up the grid.
"Today my team mate is second fastest," he said. "If I am here and he is suddenly second it is an improvement and if it is an improvement I am happy with that."
---