Friday April 27th, 2001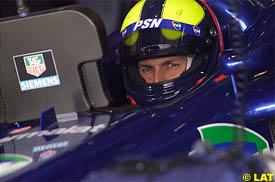 Understeering problems gave a hard time to both Prost Grand Prix drivers Jean Alesi and Luciano Burti during today's free practice for the Spanish Grand Prix, on a day which was particularly difficult for the Brazilian, who drove the team's AP04 for the second time.
Burti, who joined the French outfit last week after leaving Jaguar, had only driven the Prost for a few laps at Silverstone, so he spent the day getting used to the new machine. The Brazilian admitted he was working in the right direction.
"As today was my real first day in the car, I focused on getting familiar with it," Burti said after ending the session in 21st place. "I still have to get used at not having the power-assisted steering which makes it quite difficult for me in the fast corners.
"We managed to do some setup work and, although this afternoon's session didn't improve my position, we know in which direction we have to work for tomorrow's qualifying."
Alesi, meanwhile, was 15th fastest, the veteran Frenchman complaining about his car's handling.
"Today we have done our usual Friday's setup work. The main problem I have encountered is a strong understeering," admitted Alesi. "We don't know the cause but we will set to work on it and find a solution by tomorrow."
---