Friday April 27th, 2001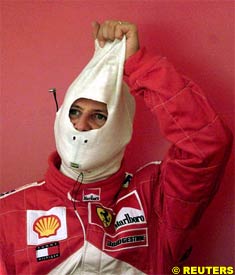 The Ferrari team overcame problems in Friday's free practice in Barcelona, but remained optimistic about their chances of success at the Circuit de Catalunya.
Brazilian Rubens Barrichello suffered a problem with the left half-shaft on his car, but outpaced his team mate Michael Schumacher as he ended third quickest being David Coulthard and Eddie Irvine.
"The day got off to a very good start, but then I had to spend a long time in the pits because of a problem with the left half-shaft," Barrichello explained.
"But I think I have acquired enough data to know what set-up I want and also what type of tyre to use for the rest of the weekend."
Schumacher could only post the fifth quickest time, but the world champion claimed Ferrari are in perfect shape following their work on traction control systems.
"The arrival of traction control and the other electronic aids are of course an important factor here and I think we are one of the few teams which have worked intensively on the system, so we are pretty sorted out," Schumacher said.
"But I don't believe anyone can claim to have the perfect system yet. We are still experimenting and trying to improve.
"We had a good test at this track about one and a half months ago, which gave us a lot of data and pointed us in the right direction. Now we are making final improvements to the car, which seem to be going in the right direction."
---