Friday April 27th, 2001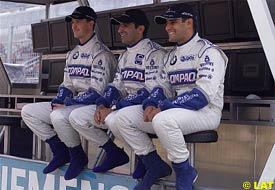 Frank Williams has called for more reliability from his team after a disappointing practice for Sunday's Spanish Grand Prix served as a reality check.
Just twelve days after a stunning victory for Williams at the San Marino Grand Prix, another mechanical failure for Juan Pablo Montoya left him down in 13th place and Ralf Schumacher could manage no more than eighth.
"Now we need reliability in the next few races and then we need it for the future," said Williams. "We are short of results, except for Imola. It is all an on-going development process. I think BMW have big ambitions and they are not yet fully satisfied.
"A lot has changed in a fortnight. We were looking good 12 days ago, but after today's events there's not a great deal of confidence to which I could say 'no problem, mate' so don't be too sure for us."
---