Friday April 27th, 2001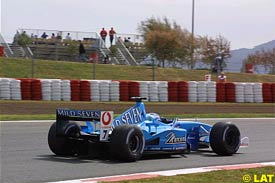 The struggling Benetton team claimed they are working in the right direction to move up the Formula One grid, despite continuing to fight at the bottom of the field during today's practice session for Sunday's Spanish Grand Prix.
The Renault-owned outfit are enduring a very difficult season despite one of the biggest budgets in the sport, and they have only scored one point in the first four races of the year. The team's form did not improve much on Friday, with Italian Giancarlo Fisichella posting the 18th fastest time, just ahead of team mate Jenson Button.
However, both drivers were optimistic after the session.
"We are working in the right direction," claimed Fisichella. "There have been a few useful set-up improvements, but we are still too far off the pace. We are pushing as hard as we can, but I don't expect to qualify much better than row seven or eight tomorrow. The car is understeering quite a lot, particularly in the slower corners."
Meanwhile, Button, who was 19th today, admitted he was feeling more comfortable driving the B201.
"I'm starting to get to get to grips with car now," Button said. "My left shoulder, which has been a bit sore recently, is getting better all the time and I am enjoying finding out how the traction control systems work. The car has not run too badly at all, actually. It is improving all the time ­ and that's the important thing."
---