Friday April 27th, 2001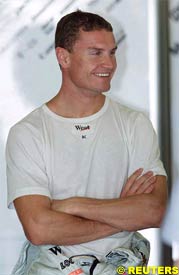 David Coulthard said on Friday that he intends to remain at the head of the championship standings after his impressive run of form continued when he topped the times in Friday's free practice in Spain.
Coulthard is currently level with Michael Schumacher at the head of the standings on 26 points, but he said that he will have to improve if he is to qualify on pole in Barcelona on Saturday.
"I'm leading the championship at the moment and it feels good" Coulthard said. "I would definitely like to be leading the championship at the end of the season. I'm pretty satisfied, but we don't know what fuel loads other drivers are on. Saturday is the important day and Sunday is the one that counts.
"Williams have a good car and engine but the tyres seem to be different here and that is a big difference. We have worked hard with Bridgestone and we are in a good position."
On traction control he added: "I feel good with all the new systems on board. There is more to think about for the drivers and you will not see us in the paddock as much now.
"Most drivers are happy to use some aids to make the car go faster. But we have not learned them yet and we will have to do that as we go along, although it is the same for everyone."
Finn Mika Hakkinen admitted that the arrival of traction control had provided him with a new challenge, but he said that the team still have a lot of work to do on their systems.
"We went through a good programme today," said Hakkinen after setting the sixth fastest time. "The new electronic aids give you a lot of opportunities and present the engineers and drivers with a different challenge. We will look at the data overnight and make improvements."
---