Friday April 27th, 2001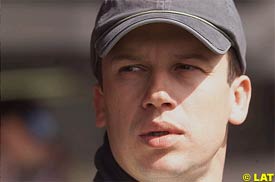 Frenchman Olivier Panis was again the star for the British American Racing team on Friday, outpacing team mate Jacques Villeneuve on his way to an impressive fourth spot on today's practice session for the Spanish Grand Prix.
Panis, who outqualified his Canadian team mate in the last two races and who has scored the only points for the Brackley-based team this season, admitted he had some problems during the day, but he added he was happy with the result.
"We had a couple of small problems to start with but we worked through them and I am happy with the end result," Panis said. "Today we focused on our set-up and making changes in preparation for Sunday.
"The balance of the car is good but now we need to look at the problems that we had this morning and to improve on the set-up again tomorrow. It was a good final position during the afternoon session but we still have a lot of work to do." Villeneuve too experienced some problems during the session, mainly with the traction control system of his Honda-powered car. The Canadian was ninth fastest, but he admitted he had ran with a heavier fuel load than Panis.
"We have had quite a few problems during practice mainly with the traction control system," explained Villeneuve. "We are not fully set up with it yet and we did not manage to get on top of it today.
"We lost a fair amount of time but I am not that unhappy because we were fairly acceptable on lap times. Oliver also took fuel out and the car seems to be competitive with low fuel so that's encouraging."
---