Friday April 27th, 2001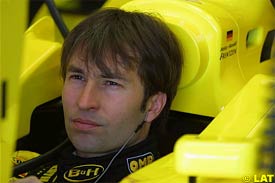 The Jordan team described the first practice session for the Spanish Grand Prix as a 'routine day' of work after Italian Jarno Trulli set the tenth fastest time and German Heinz-Harald Frentzen was 14th.
Trulli, who finished fifth at the San Marino Grand Prix two weeks ago, lost some valuable track time during the morning session following a problem with his car's clutch. The Italian also admitted they still have work to do on the balance of the Honda-powered EJ11.
"A routine day for us," said Trulli. "We worked basically on car set-up and making adjustments to the latest electronic systems. Unfortunately, a clutch failure this morning meant I lost the first session, which effectively meant we had to do all our work in the second and final session in the afternoon.
"From what we can see, there is quite a lot of work to do because in these conditions - it was pretty windy in the afternoon - the car doesn't seem so well balanced. The wind at this circuit can affect some cars badly and others a bit less and it looks like we are suffering a lot at the moment."
Team mate Frentzen was not satisfied with the way his day developed, running off the track twice during the session, the German also unhappy with the handling of his car.
"I was not very happy with myself today," confessed Frentzen. "I went off two times at the same place and I have to say I'm a bit upset. I'm trying to find a better set-up for that particular corner and I'm obviously having a few problems there. As for the rest, everything is pretty much on schedule.
"We have done a lot of testing here but this is the first time we have run officially with traction control. That makes it a little bit easier for the driver and helps with tyre degradation ­ but things can still go wrong when braking! It's a bit embarrassing; I don't want to speak about it."
---