Friday April 27th, 2001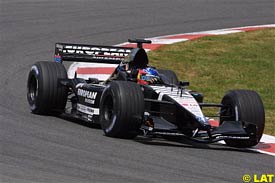 Spaniard Fernando Alonso's complaint about the tribulations of life as a Minardi driver won little sympathy from Jaguar's Eddie Irvine on Friday.
Alonso, 19, had said earlier in the year that nobody respected the Minardi drivers on the racetrack and he clarified the comment after first free practice for his home Grand Prix in Barcelona.
"It's difficult to do a clear lap because everybody waits until the end of the session," he said of qualifying. "For us it is always difficult because we can't overtake anybody.
"I hope that people have a little bit more respect for us in the next races," added Alonso, who has had an impressive season so far despite his uncompetitive car.
Irvine said that anyone who started their flying lap within two seconds of a Minardi deserved to be held up.
"In the race I can understand their problem because they are so damn slow that they are constantly getting lapped," he said. "They might as well not be here, you're not racing in Formula One, you're just looking in your mirrors.
"I can understand their frustration but that's Minardi's job. It's up to Minardi to raise their game so they don't get lapped so often. It's like us. We've got to raise our game so we don't get lapped," added Irvine.
---