Friday April 27th, 2001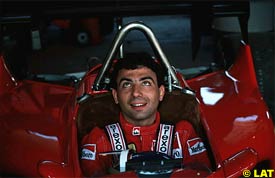 Top Formula One drivers of yesteryear paid their final respects Friday to former Ferrari driver Michele Alboreto, who was killed in a testing crash on Wednesday.
Frenchman Rene Arnoux, Italy's Riccardo Patrese and Belgium's Thierry Boutsen were among some 400 mourners at a private funeral service for Alboreto held in a suburb of Milan where he owned a house. Reigning world champion Michael Schumacher and former Ferrari driver Gerhard Berger sent wreathes to the funeral.
Alboreto's coffin was carried to the church topped by a portrait photograph and a bunch of yellow flowers. Ferrari president Luca di Montezemolo, who Wednesday had lauded Alboreto's "irrepressible passion" for motor racing, was also among the mourners.
Alboreto, 44, died Wednesday at the recently-built Lausitzring circuit in Germany on the last of a three-day testing session for the Le Mans 24-hour race. He was at the wheel on a straight section when his car, an Audi R8, left the track, hit a fence and flipped over.
Weather conditions were ideal and Audi says it is baffled by what it described as an "incomprehensible tragedy." Alboreto had five Grand Prix successes in the 1980s and was a member of the Porsche team which won the 1997 Le Mans and the Audi team which came third there last year.
He competed in 194 Formula One races from 1981 to 1994 and achieved three of his victories for Ferrari -- at Belgium in 1984 and in Canada and Germany the following year. He moved to sportscar racing after bowing out of Formula One, joined Audi in 1999 and twice took part in the Le Mans classic for the German manufacturer. He also entered races in the American Le Mans Series (ALMS).
His final victory came last March in a 12-hour race in Sebring, Florida, in which he teamed up with fellow Italian Rinaldo Capello and Frenchman Laurent Aiello.
---