Saturday April 28th, 2001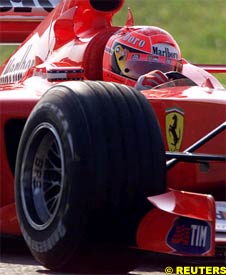 Ferrari's Michael Schumacher put in an early dominant performance in qualifying for Sunday's Spanish Grand Prix, but ended the day only narrowly beating McLaren's Mika Hakkinen to pole position.
Schumacher's time of 1:18.201 looked certain not to be beaten as his rivals struggled to get within four-tenths of a second of the world champion. His stunning lap was 2.773 seconds faster than last year's pole, but Hakkinen put in a late run to finish just 0.085 seconds off his rival.
David Coulthard was third with a time 0.434 seconds off Schumacher's pace, and Ferrari's Rubens Barrichello took fourth as Ferrari and McLaren locked-out the front two rows. Ralf Schumacher narrowly beat Jarno Trulli to fifth place, but it equalled his worst grid position of the season and neither could join the top four in the one minute 18s.
Jacques Villeneuve, who struggled with his traction control system throughout practice, set the seventh fastest time to split the Jordans with Heinz-Harald Frentzen ending eighth. The Sauber pair filled out the final two spots in the top ten after an impressive performance from youngster Kimi Raikkonen saw him shade his team-mate for ninth.
Eddie Irvine ended 13th fastest with his new team-mate Pedro de la Rosa in a depressing 20th position. Meanwhile, the man he replaced at Jaguar, Luciano Burti, ran well with his new team Prost and beat his team-mate Jean Alesi to 14th position late in the session.
All teams were slow to appear at the start as the Barcelona sun beat down to create perfect conditions, and after 10 minutes only two drivers had posted a competitive time. Coulthard was the first top man out with nearly 20 minutes gone, and he posted an early time of 1:18.635, already more than two seconds fastest than last year's pole time.
The Scot's team-mate made it a McLaren one-two after Trulli had put in a good time for Jordan. Then Villeneuve left the track at turn one but recovered from his trip across the gravel to return to the pits. Barrichello posted a third fastest time to knock a fast running Raikkonen down the order. But the Brazilian's team-mate Schumacher put in a stunning time to steal provisional pole with just less under half an hour gone.
Coulthard came out to push for pole but could not match the pace of the Ferrari and returned to the pits. Barrichello, meanwhile, improved his time to take his Ferrari into fourth spot and make it a Ferrari-McLaren lock-out as Ralf Schumacher, Raikkonen, the Jordans and BARs traded places in the lower end of the top ten.
With fifteen minutes to go, Michael Schumacher came out and bettered his already dominant lap time to draw his rivals out of the pits, but only Hakkinen could get close. Sauber's Heidfeld finally managed to post a time to get him into the race with 13 minutes to go, and not long after Verstappen spun off the circuit and into the gravel, but returned to the track.
Barrichello moved up a place into third to split the McLarens at the head of the field on his third run, while Burti put in a superb time to claim 13th fastest time ahead of his new team-mate Jean Alesi. With minutes to go, 18 cars were on the circuit bidding to improve, and Hakkinen very nearly overhauled Schumacher's time at the death, but could only succeed in jumping up to second.
Pos  Driver        Team                    Times                 
 1.  M.Schumacher  Ferrari            (B)  1:18.201  217.747 km/h
 2.  Hakkinen      McLaren Mercedes   (B)  1:18.286    +    0.085
 3.  Coulthard     McLaren Mercedes   (B)  1:18.635    +    0.434
 4.  Barrichello   Ferrari            (B)  1:18.674    +    0.473
 5.  R.Schumacher  Williams BMW       (M)  1:19.016    +    0.815
 6.  Trulli        Jordan Honda       (B)  1:19.093    +    0.892
 7.  Villeneuve    BAR Honda          (B)  1:19.122    +    0.921
 8.  Frentzen      Jordan Honda       (B)  1:19.150    +    0.949
 9.  Raikkonen     Sauber Petronas    (B)  1:19.229    +    1.028
10.  Heidfeld      Sauber Petronas    (B)  1:19.232    +    1.031
11.  Panis         BAR Honda          (B)  1:19.479    +    1.278
12.  Montoya       Williams BMW       (M)  1:19.660    +    1.459
13.  Irvine        Jaguar Cosworth    (M)  1:20.326    +    2.125
14.  Burti         Prost Acer         (M)  1:20.585    +    2.384
15.  Alesi         Prost Acer         (M)  1:20.601    +    2.400
16.  Bernoldi      Arrows Asiatech    (B)  1:20.696    +    2.495
17.  Verstappen    Arrows Asiatech    (B)  1:20.737    +    2.536
18.  Alonso        Minardi European   (M)  1:21.037    +    2.836
19.  Fisichella    Benetton Renault   (M)  1:21.065    +    2.864
20.  de la Rosa    Jaguar Cosworth    (M)  1:21.338    +    3.137
21.  Button        Benetton Renault   (M)  1:21.916    +    3.715
22.  Marques       Minardi European   (M)  1:22.522    +    4.321

All Timing Unofficial

---