Saturday April 28th, 2001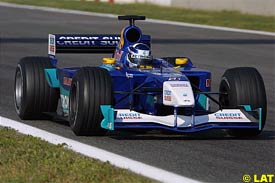 Young Finn Kimi Raikkonen outqualified Sauber team mate Nick Heidfeld for the second consecutive race to set an impressive ninth fastest time on today's qualifying session for the Spanish Grand Prix, continuing with the team's good form.
Raikkonen, in only his fifth Formula One race endured a trouble-free session to improve on his best previous best qualifying position. However, the 21-year old was not satisfied with his car's handling.
"This morning the car was great, so we left it alone for the afternoon," Raikkonen said. "Maybe we shouldn't have done that because I couldn't repeat that time in qualifying. If I hadů but we just couldn't get the best out of the car. I'm really pleased to be in the top 10 again, though."
German Heidfeld was tenth fastest, completing yet another good performance for the Swiss team, despite not being able to set a time within the 107 percent for more than 40 minutes.
Heidfeld's car suffered a mechanical problem early in the session, and he had to take the spare car, which was ready for his team mate, losing a lot of track time. Despite all the problems, Heidfeld was pleased to be in the top 10, though he admitted David Coulthard had spoiled his final attempt.
"This was a disappointing afternoon for me," Heidfeld said. "On my first run I had a drivetrain problem on my race car and had to switch to the T-car, which unfortunately was set for Kimi. It always takes time to change the seat and pedals, and though the team did a great job I found after one run that I needed some more adjustment.
"I managed a good time on the next run, but if you look at the sector times my last run was better still until I came up behind Coulthard and lost time. I'm happy to be in the top 10 in the circumstances, but not when I consider where I could have been without losing that time."
---