Saturday April 28th, 2001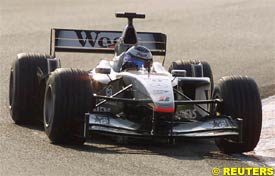 Despite showing a positive return to form, the McLaren pair of Mika Hakkinen and David Coulthard were disappointed to have failed to stop Ferrari's Michael Schumacher from claiming pole position for Sunday's Spanish Grand Prix.
Hakkinen had a late charge in an effort to top the timesheets, but a small mistake cost him vital times and he finished just 0.085 seconds off Schumacher's time.
"I am a bit disappointed not to get pole," said Hakkinen. "I lost time in turn five but up to then it was pretty good. I lost too much back end out of the corner and lost time but generally it was good to get a feel from the car in that run because it was feeling fantastic."
After practice Hakkinen revealed that his final run was made without the use of traction control, because the system had been giving him problems throughout the day.
But despite the difficulties, Hakkinen was impressed by the new system. "The new aids are good," he said. "They are in the early stages and there are lots of things to do and to develop and make it better so I am confident."
Team mate Coulthard was also disappointed after struggling with the balance of the car, but took confidence in the fact that he will start on the better, less dusty side of the track on Sunday.
"Of course you want to be quickest but you know when out there if you are doing the maximum," said Coulthard. "Today my only clean run was the first one and I was not so happy with the balance later on.
"My last run there was just too much traffic, but if the system works well tomorrow I have the clean half of the track so I can make up a place."
---