Saturday April 28th, 2001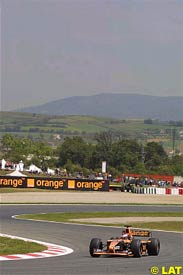 Arrows' rookie Enrique Bernoldi was delighted after qualifying in front of his most experienced team mate Jos Verstappen for the third consecutive race, though the Leafield-based outfit was unable to find the speed to move up the grid.
Both Bernoldi and Verstappen have qualified 16th and 17th respectively in the last two races in Brazil and San Marino and, amazingly, the drivers repeated their performance once more today at Barcelona.
Though he reckoned he could have improved his grid position, Bernoldi admitted he was satisfied with the result.
"Well it looks like it's 3-2 to Brazil," joked Bernoldi. "I'm happy with that although my last lap could have been quicker but I had a bit of a slide. The whole session went according to our plan.
"We didn't actually change much on the car between each run, it was more a case of me getting into the flow and slowly improving. I enjoy this track so hopefully we'll have a good day tomorrow as I'm looking forward to racing here."
Verstappen endured a difficult session after spinning off the track during his second attempt, the Dutch damaging his car. As a consequence, he was unable to lap as fast as he expected for the remainder of the session. However, Verstappen was happy with the team's work.
"We tried very hard today. We always knew this would be a tough circuit for us but having said that we have definitely improved the aerodynamic package a lot since Imola which is a good sign," said Verstappen. "I had a really good second run but span on my third as my brakes felt different.
"When I came back in we bled the brakes which solved the problem but I think I may have damaged the floor when I went off so was unable to improve on my last run. We've got a lot more work to do but have definitely made a step in the right direction."
---