Saturday April 28th, 2001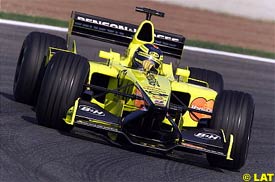 Both Jordan drivers Jarno Trulli and Heinz-Harald Frentzen were happy with the performance of their Honda-powered EJ11 after qualifying sixth and eighth respectively for Sunday's Spanish Grand Prix at the Circuit de Catalunya.
Italian Trulli outqualified German Frentzen again this season, and following "a very close qualifying" session, the driver from Pescara said he was feeling confident for tomorrow's race, especially after finishing in the points in the last two Grands Prix.
"We knew it was going to be as very close qualifying," said Trulli. "On my quickest lap I had some traffic, but sixth position on a track where we have never really been strong is not too bad. I'm confident for tomorrow because our car is reliable but, having said that, it's going to be a very tough Grand Prix."
From fifth-placed Ralf Schumacher to Olivier Panis in eleventh there was only a four-tenth gap, and Frentzen reckoned he could have moved up the grid easily. However, he was unable to get a perfect lap and had to settle with the fourth row.
"It was a very close qualifying session today," Frentzen said. "Every hundredth of a second really counted. If I had been able to squeeze another tenth of a second from the car, I would have been sixth, but that was all I could do in this session ­ so I have to live with that. Each lap got better, the best one coming at the end even though I lost a bit of time in the last sector.
"I was one-tenth of a second up in the first two sectors but lost it in the third. So I managed to go quicker ­ but not quick enough to break the 1m 19s barrier. The car was good all the way through. From this position, it looks like it's going to be a tight race because there is not a lot between us in lap times."
Meanwhile, team boss Eddie Jordan was disappointed his team missed out in the tight qualifying session shake-up which he believes showed a breakaway for McLaren and Ferrari. Teams underwent the first qualifying session since new electronics rulings which allow traction control were introduced to Formula One, and to Jordan it seems to have separated the pack.
"Qualifying was incredibly tight," he said. "There could have been any one of twelve drivers at the front today. "There seems to be two clear groups. First McLaren and Ferrari, with Jordan, Williams, Sauber, and BAR following closely.
"This year the car is proving to be reliable and very competitive in the races and I hope I'll have a good start but it's going to be a very tough Grand Prix."
---