Saturday April 28th, 2001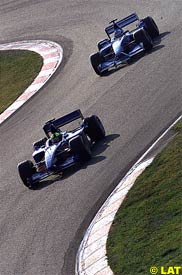 Brazilian Luciano Burti could not had hoped for a better start with the Prost Grand Prix team, after outqualifying new team mate Jean Alesi in only his first Grand Prix with the French outfit.
Burti, who left the Jaguar team last week to replaced Argentine Gaston Mazzacane at Prost, had only driven the Ferrari-powered AP04 for a few laps at Silverstone before the Spanish race.
Despite being slower than veteran Alesi for most of the free practice sessions, the Brazilian performed well during qualifying and set the 14th quickest time, fourteen hundredths of a second in front of the second Prost.
"I am quite happy with my first qualifying result with my new team," said Burti. "Right from the start, I have felt welcomed and relaxed with everyone in the team. I think it contributed to my performance today. This morning, despite the lack of time, everybody worked hard and fast to set up the car for me and we managed to find quite a good balance.
"In this afternoon's session it was somehow difficult to put in a good lap because of the wind. But at the end of the session, I managed to do a good lap, so I am very satisfied."
Alesi, meanwhile, was disappointed after qualifying 15th, and the Frenchman claimed the car still needed a big amount of development before the team begin to move up the grid.
"Today's qualifying has not been an improvement for us," said Alesi, who was outqualified for the first time this season. "It's disappointing that we couldn't do better on this circuit which we know so well.
"It's clear that until we have the development due on the car we will not see a significant change. We just have to be patient and wait, before we can see a real progress."
---