Saturday April 28th, 2001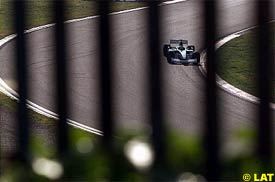 Eddie Irvine was content with his 13th place finish after a tough qualifying session for the Jaguar team at the Circuit de Catalunya in Spain. His new team mate Pedro de la Rosa also endured a difficult session.
Irvine, who completed his full 12-lap allocation with a best time of 1.20.326, felt that he got the best possible performance out of his car. "I couldn't have done any better today," said Irvine. "We extracted everything we could from the car and 13th place is what we expected at this circuit.
"Given the aerodynamic demands of Catalunya, we always envisaged a difficult weekend and unless the teams in front of us get it wrong tomorrow, we're in for another hard race chasing a distant chance of a point.
"There's little we can do apart from wait for the new aerodynamic package which is in development right now."
Meanwhile, Irvine's team mate Pedro de la Rosa had a frustrating day in his first Jaguar qualifying session, finishing in 20th position for Sunday's race.
A steering problem in the morning warm up caused de la Rosa's car to veer right upon exiting the pit lane, and the Spaniard was consequently forced to use the spare car set up for Irvine.
"I am very disappointed with the way things went against me today," said de la Rosa. "My problems began during the warm-up session this morning when a steering failure caused me to drive into the wall at the exit of the pit lane. The team tried to repair the damage in time for qualifying but in the end I had no choice but to take the T-Car which was set up for Eddie.
"I then encountered problems with the rear brakes and set-up. It wasn't balanced to my liking and 20th place on the grid is the price we've paid. Given our healthy start yesterday, it's annoying to fall victim to such problems but there's no point in dwelling on it.
"Any new team such as this one will experience difficulties like this and we must accept these as part of our learning curve and development."
Chief executive Bobby Rahal believes de la Rosa's low finish would have been bettered, had it not been for the problem with the car.
Rahal claimed: "Our initial investigation has identified the problem as a steering failure and we checked Eddie's car immediately to ensure there was no replication of this problem. I'm sure both cars would have qualified much as we have done so far this season and that's in the mid-grid."
---