Saturday April 28th, 2001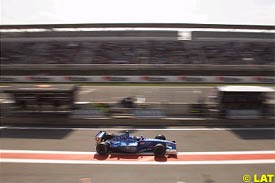 The Benetton team claimed they were disappointed after yet another poor performance in Saturday's qualifying session. However, they admitted the result was not a big surprise following their performance in the first races of the season.
"We did expect this type of performance before coming to Barcelona, so it's not really surprising," said Giancarlo Fisichella after qualifying in 19th position. "Having said that I'm obviously disappointed, but we are just doing what we can do with the car at the moment.
"The circuit was okay today. It was a little bit windy out there but that wasn't too bad and there weren't really any problems."
Team mate Jenson Button, still complaining from shoulder pains and who could miss the Austrian Grand Prix in two weeks time in order to recover from the injury, was also disappointed today. The young Brit qualified again on the last row of the grid, only in front of Minardi's Tarso Marques.
"Starting from where I am now will make tomorrow's race very difficult but my main task now is to bring the car home and gather as much information as possible so that we can learn for the future," said Button.
"Obviously, I'm disappointed, particularly as I wasn't able to complete my programme as we had a problem at the end of the session."
---