Saturday April 28th, 2001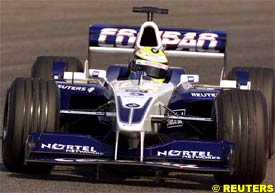 San Marino Grand Prix winners Williams were unable to continue with their impressive form at Barcelona, where Ralf Schumacher completed his worst performance of the season so far by qualifying in fifth position for Sunday's Spanish Grand Prix.
Schumacher, winner at Imola two weeks ago, was nearly a second slower than his brother and pole man Michael. However, the younger German admitted he was happy with the result, having extracted the best from the BMW-powered, Michelin-shod FW23.
"I am happy so far as we got the most out of the car - as it was clear Barcelona would be difficult for us," Schumacher said. "In view of this being eight tenths away from pole is reasonable. Making a forecast for the race is difficult as our package here is not as strong as in Imola."
Team mate Juan Pablo Montoya, meanwhile, was down in 12th position more than half a second behind Schumacher, the Colombian complaining about the traffic on his third and fourth attempts. The 25-year old will be hoping to finish tomorrow's race after four consecutive retirements.
"I had a decent first run, the second was better and I was trying to do everything step by step. On the third I was quicker, but we had traffic and a yellow flag," explained Montoya.
"Then in the last one I had Villeneuve and traffic, so that was it. The car was good, and the sad thing was the time was there. My engineers and the guys did a fantastic job, but now we have to see what happens in the race."
---