Saturday April 28th, 2001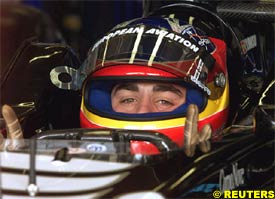 Local hero Fernando Alonso was delighted after putting his European Minardi ahead of both Benettons and the Jaguar of compatriot Pedro de la Rosa in Saturday's qualifying session for the Spanish Grand Prix.
The 19-year old driver from Oviedo, in his fifth Formula One Grand Prix, continued to impress with his speed, not only ending the session in front of both Benettons, but also outqualifying his more experienced team mate Tarso Marques by almost 1.5 seconds.
"Today's qualifying session went very well - I really did not expect to finish ahead of one Jaguar and both Benettons!," said Alonso. "What can I say? The team did a great job, particularly the mechanics on my crew when they changed an engine very quickly in this morning's first free practice session.
"They provided me with a car that behaved brilliantly from that moment on. As a result, we were able to test several different set-ups and get the best out of the chassis today. I feel very happy and I'm now looking forward to tomorrow."
---