Saturday April 28th, 2001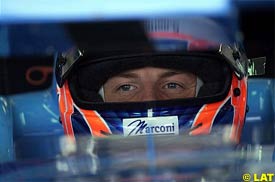 British driver Jenson Button is playing down fears that a shoulder injury could force him to miss next month's Austrian Grand Prix. His manager David Robertson has warned that Button could have to rest if the injury became any worse at the wheel of his Benetton in this weekend's Spanish Grand Prix.
Robertson said: "If it gets a lot worse it is possible he might miss the Austrian Grand Prix. We will have to look after the race."
However, Button said on Saturday: "It has been a problem but I am feeling much better than I was and it is getting better all the time."
Button sustained the injury at the Malaysian Grand Prix, the second round of this year's world championship, but it was aggravated at the anti-clockwise circuit of Imola two weeks ago. The 21-year-old, who caused a sensation last year when he finished eighth in the championship for Williams in his first season of Formula One racing, pulled out of a testing session last weekend because of the injury.
The area between the collar bone and the shoulder has now swelled and become quite inflamed and the Benetton car's lack of power steering has made the injury more difficult to cope with. But Button is refusing to use it as an excuse for his poor performances at Benetton, the team he joined on loan after Colombian Juan Pablo Montoya took his Williams drive. In the last two races Button has qualified on the back row of the grid.
"I am taking anti-inflammatory pills and have been wearing a support around my shoulder," said Button. "It is not an excuse for the lap times here but it doesn't make life easy."
Button's physio also added that the injury is now much more under control than it has been in recent weeks and said that although it may need a bit of rest it should not be a serious problem.
---