Sunday April 29th, 2001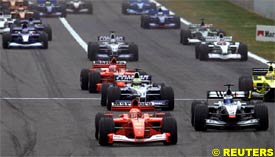 Michael Schumacher claimed victory in a dramatic Spanish Grand Prix as he capitalised from the misfortune of McLaren driver Mika Hakkinen, who broke down on the final lap just yards from victory.
Hakkinen was just under 40 seconds ahead of Schumacher going into the final lap but the Mercedes engine in his McLaren seemed to blow and he coasted to retirement to allow Schumacher to come back and claim victory. The McLaren-Mercedes of Hakkinen seemed destined for its first win of the season and fourth victory in succession in Spain before the gremlins struck. Hakkinen was eventually classified ninth.
Hakkinen's team-mate David Coulthard, meanwhile, produced an impressive drive as he won two points with fifth place and arguably the performance of the race after an amazing recovery from a disastrous start. Coulthard's race seemed to be ruined before the start as his McLaren-Mercedes car stalled on the grid as the teams left the startline for the formation lap. That meant Coulthard had to start the race from the back of the field instead of third on the grid.
Coulthard, however, made a great start as Schumacher sped away from pole in his Ferrari with Hakkinen second. But on the first lap Coulthard clashed with the Arrows of Enrique Bernoldi as he attempted to make up places. Coulthard damaged the front-wing and nose of his McLaren and was forced to come into the pits to replace the parts. His mechanics completed the change over in just over 15 seconds but Coulthard was back to last place in the field when he rejoined the race, despite Bernoldi also pitting to check the damage on his car.
Meanwhile, Schumacher maintained his lead at the start from Hakkinen, Rubens Barrichello in third, Ralf Schumacher in fourth in his Williams, Jordan's Jarno Trulli fifth and Juan Pablo Montoya sixth. Williams driver Montoya made the best start of the race as he made up six places from 12th on the grid on the opening lap. His team-mate Ralf Schumacher also made a good start from fifth but lost out to Ferrari driver Barrichello in a battle for third by the first corner.
On lap 6 the race saw its first retirements as Jordan's Heinz-Harald Frentzen, who stuttered from eighth on the grid and was left near the rear of the field, clashed with Jaguar debutant Pedro de la Rosa. Frentzen came up the inside of De la Rosa, who did not see his Jordan opponent, and as the Jaguar driver turned in the two cars touched - with the Jordan's rear going up into the air - and spun into the gravel.
Bernoldi's race also ended three laps later as his car seemed to develop electrical problems and he coasted off the track and onto the grass at the side of the track. Schumacher and Hakkinen opened up a six-second gap on third placed Barrichello by lap 19 and with the difference between the front-two just 1.5 seconds the first pit-stop promised to prove crucial.
On lap 21 Ralf Schumacher span out of the race and into the gravel with a driver error when running fourth and moments later Trulli and Montoya came in for their first pit-stops. Montoya's Williams mechanics were quicker than Trulli's Jordan counterparts and he made up a place to rejoin the field in seventh while Trulli was ninth with the drivers around them still to pit.
Schumacher came in for his first pit-stop a lap later and rejoined the field third behind Barrichello and new race leader Hakkinen, who proceeded to set a new fastest lap. Hakkinen came in for his first pit-stop on lap 27, but a slight delay getting the fuel nozzle off his car, combined with a quick lap from Schumacher, allowed the latter to regain the lead as Hakkinen exited the pit-lane in second place, two-and-a-half seconds behind.
Schumacher slowly extended his lead from Hakkinen and by lap 38 had nearly a four-second gap from the McLaren driver. Schumacher came in for his second stop on lap 42 and was boosted by Hakkinen being held-up in traffic when he needed a quick lap.
Hakkinen still led by 21 seconds after Schumacher rejoined the field, but realistically needed a 25-second gap before his second pit-stop if he wanted to keep top spot.
Barrichello had come in for his second pit-stop on lap 43 but five laps later he went across a gravel trap and appeared to damage the rear-right suspension on his Ferrari. He came into the pits to see if new tyres would make a difference but on lap 50 he pulled into his garage and retired.
Jaguar's Eddie Irvine had retired a lap earlier than Barrichello as he pulled off the track on the pit-straight with a mechanical problem.
Hakkinen, meanwhile, had managed to build-up a 26-second lead before coming in for his second pit-stop on lap 50. His mechanics turned him around in just under nine seconds and he rejoined the track two seconds ahead of Schumacher to turn the race on its head.
Barrichello's retirement had gifted third place to Montoya, who had continued to drive a steady race, and the Colombian driver was promoted to second after Hakkinen's final lap retirement.
As Schumacher took the chequered flag and Hakkinen got out of his car with his head bowed, Montoya was classified second, Jacques Villeneuve third for British American Racing, Trulli fourth, Coulthard fifth and Nick Heidfeld sixth in a Sauber.
PROVISIONAL RACE RESULTS

The Spanish GP
Circuit de Catalunya, Barcelona;
65 laps. Weather: dry, windy.

Classified:

Pos  Driver        Team                     Time        
 1.  M.Schumacher  Ferrari            (B)     1h31:03.305
 2.  Montoya       Williams BMW       (M)     +  0:40.700
 3.  Villeneuve    BAR Honda          (B)     +  0:49.600
 4.  Trulli        Jordan Honda       (B)     +  0:51.200
 5.  Coulthard     McLaren Mercedes   (B)     +  0:51.600
 6.  Heidfeld      Sauber Petronas    (B)     +  1:01.800
 7.  Panis         BAR Honda          (B)     +  1:04.900
 8.  Raikkonen     Sauber Petronas    (B)     +  1:19.800
 9.  Hakkinen      McLaren Mercedes   (B)     +  1 Lap   
10.  Alesi         Prost Acer         (M)     +  1 Lap   
11.  Burti         Prost Acer         (M)     +  1 Lap   
12.  Verstappen    Arrows Asiatech    (B)     +  2 Lap   
13.  Alonso        Minardi European   (M)     +  2 Lap   
14.  Fisichella    Benetton Renault   (M)     +  2 Lap   
15.  Button        Benetton Renault   (M)     +  3 Lap   
16.  Marques       Minardi European   (M)     +  3 Lap   

Fastest Lap: M.Schumacher, 1:21.151, lap 25

Not Classified/Retirements:

Driver        Team                   On Lap
Barrichello   Ferrari            (B)   49   
Irvine        Jaguar Cosworth    (M)   48   
R.Schumacher  Williams BMW       (M)   20   
Bernoldi      Arrows Asiatech    (B)    8   
de la Rosa    Jaguar Cosworth    (M)    5   
Frentzen      Jordan Honda       (B)    5   


World Championship Standing, Round 5:                

Drivers:                    Constructors:             
 1.  M.Schumacher  36        1.  Ferrari             50
 2.  Coulthard     28        2.  McLaren             32
 3   Barrichello   14        3.  Williams            18
 4.  R.Schumacher  12        4.  Jordan              13
 5.  Heidfeld       8        5.  Sauber               9
 6.  Trulli         7        6.  BAR                  7
 7.  Montoya        6        7.  Benetton             1
 =   Frentzen       6                                  
 9.  Hakkinen       4                                  
 =   Villeneuve     4                                  
11.  Panis          3                                  
12.  Raikkonen      1                                  
 =   Fisichella     1                                  

All timing unofficial

---