Sunday April 29th, 2001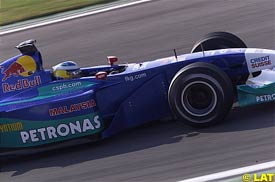 German Nick Heidfeld was delighted after finishing in sixth place for the Sauber team at today's Spanish Grand Prix, scoring points for the third time in five races in his first season with the Swiss outfit.
Heidfeld, who finished fourth in the season opening Australian Grand Prix and third in Brazil, completed another brilliant drive after a difficult qualifying on Saturday, where he was outpaced by team mate Kimi Raikkonen. But the German was always ahead of the Finn during the race.
Heidfeld ran in a comfortable sixth place until McLaren's David Coulthard demoted him from a point-scoring position at the end of the race. However, when race leader Mika Hakkinen retired, Heidfeld was able to get into the points again.
"I made a good start and nearly got past Jacques Villeneuve, but the first corner was pretty exciting as he squeezed me almost on to the grass," explained Heidfeld. "I don't think we quite touched, though it was close! But it was just normal racing; I would have done the same thing.
"After that the car was okay, and I was really happy with it during the second stint when I was catching Jarno Trulli, but the third set of tyres wasn't as good and I was struggling. I really enjoyed racing with David Coulthard, but I wish I could have stayed in front of him. It's good to score another point today."
Team mate Raikkonen finished in eighth position after a quiet race, the young Finn complaining about the balance of his Sauber.
"My start was pretty good, but then I lost out a bit going down to the first corner," said Raikkonen. "The car was not as well balanced as it had been in qualifying and later in the race it was understeering a lot, so for me it was a difficult race."
Heidfeld is now fifth in the drivers' standings with a total of eight points, while Raikkonen has one point, scored in Australia.
---