Sunday April 29th, 2001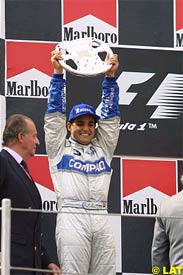 The Spanish Grand Prix marked the legal return of traction control but Williams driver Juan Pablo Montoya decided to ignore the electronic aid and subsequently drove to his first Grand Prix finish and second place in Spain.
Montoya used the launch control of traction system at the start, but through the remainder of the 65-lap race relied on the reliability of his Williams car and its BMW engine to claim his first-ever points.
"We only had launch control and it seemed to work," said Montoya as he claimed six places on the first lap from 12th place on the grid up to sixth place. "We decided to use the team's reliability and not to use traction control and it really paid off for us."
Montoya finished second after McLaren's Mika Hakkinen retired from the lead on the final lap and the Colombian driver appreciated that his Williams team have a lot to do to make up the ground on McLaren and Ferrari, who won the race through Michael Schumacher.
He added: "The car was a bit better but it wasn't massively different. The car was quite tricky to drive and compared with Michael (Schumacher) and the McLarens as well, they're in a different league. There's a lot of work to be done for the next race."
Meanwhile, team mate Ralf Schumacher, winner of the San Marino Grand Prix two weeks ago, retired from the race after spinning off the track. The German was unsure about what caused the incident.
"We don't know what the problem was yet, I don't know if it was just a locking of the brakes but you don't normally have that problem there on the circuit," said Schumacher.
---