Sunday April 29th, 2001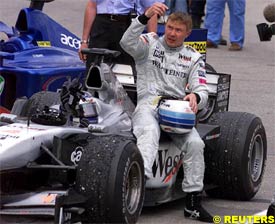 Finn driver Mika Hakkinen admitted he was 'super disappointed' after he was robbed of a victory on the final lap of the Spanish Grand Prix on Sunday.
Hakkinen was 40 seconds ahead of Schumacher with just five corners of the 65-lap race remaining when his silver McLaren suddenly slowed to a crawl. He tried in vain to keep rolling to the finish and it was Germany's Michael Schumacher, who had suffered serious problems with his tyres to slip far behind, who took the chequered flag.
The McLaren driver, who had won in Spain the last three years, now trails Schumacher by a massive 32 points and team mate David Coulthard by 24.
"I'm super-disappointed - goddamn it, you know - Jesus," Hakkinen, twice a world champion, spluttered. "It could have been a fantastic finish for me - it was going so easy. It just didn't work out this time over here for me.
"It's difficult to describe how I feel," added Hakkinen. "I don't think the outcome will sink in until later. I'm obviously very disappointed, not only for me but also for the team.
"I couldn't believe it when it happened, as we were confident with the car. I think it was a clutch problem as I just lost drove no matter what gear I selected. I was going up the hill at the time so there was no way I was going to be able to get the car to the finish."
Hakkinen hitched a ride back to the pits on Coulthard's car, his title bid stalled at four points. A Mercedes spokesman told Reuters the clutch on Hakkinen's car had "exploded".
"When you have been in the sport for so many years you know it's never won until it's won," said McLaren chief Ron Dennis. "The pain will come tomorrow. It was not one of our greatest days."
Hakkinen's team mate David Coulthard also suffered in the race, but his misery came at the start as he was forced to start from the back of the grid after his engine shut-off before the start of the formation lap.
Coulthard blamed the new electronic software in his car for the fault, but he was pleased to finish fifth and earn two points to keep up the pressure on championship leader Schumacher.
"I initiated the start sequence on the new software before the formation lap and everything was normal until I wanted to accelerate away," said Coulthard. We are still looking into this as it is not meant to happen."
---