Sunday April 29th, 2001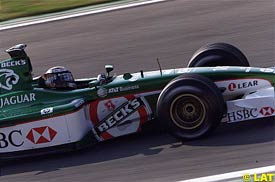 Ulsterman Eddie Irvine believes he missed out on a potential points finish when he retired from the Spanish Grand Prix, even though he knows his Jaguar R2 is still too slow.
Irvine claimed that the Milton Keynes-based team need to qualify higher on the grid if they are to break their points duck this season, but was disappointed he failed to finish in the top-six in Barcelona.
"It was as good as we could have done, but we are still too slow," Irvine said after retiring on his 48th lap with engine problems. "We are not quick enough and it is pretty difficult to do well and it is a shame to see valuable points so close yet so far away.
"I cannot claim the start was because of me, it was good work by someone in the Cosworth truck, but I think if we can qualify a bit further up we can start to finish in the points."
Meanwhile, Jaguar debutant Pedro de la Rosa refused to accept the blame for his sixth lap collision with Heinz-Harald Frentzen which resulted in both retiring.
"I saw him at the last moment," De la Rosa said. "I had nowhere to go, it was too late. I didn't see him until I turned in and we touched wheels and both went off."
---