Sunday April 29th, 2001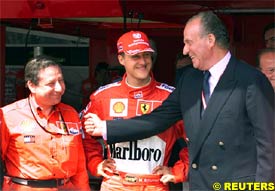 Michael Schumacher has dismissed suggestions that his Ferrari team are making too many errors after he overcame technical problems to win the Spanish Grand Prix.
Schumacher, who suffered from bad set-up in Brazil and San Marino, looked as though he would lose again in Spain as his Ferrari team were out-thought in the second round of pit-stops by their McLaren rivals.
McLaren's Mika Hakkinen led until a suspected clutch problem ended his race on the final lap and Schumacher claimed a fortunate victory after tailing back with tyre problems.
"You probably read too much into it than there is," said Schumacher when asked if he had a set-up problem in Spain. "I'm not concerned at all, because what happened in the last stint was with the tyres.
"I'm pretty sure we will find the reason and solution for that, otherwise the car was perfect. As you saw, it was a close fight and battle with Mika and things were going in their favour until the end. I'm not concerned for the rest of the season."
---