Sunday April 29th, 2001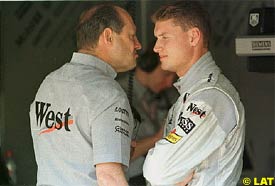 McLaren boss Ron Dennis has accused his driver David Coulthard of brain fade after the Scot stalled his car before the formation lap at the Spanish Grand Prix on Sunday. But Coulthard has fired back at Dennis, saying he was the one suffering from brain fade.
Coulthard, who had qualified in third position for today's race, was forced to take the start from the back of the grid, and while he was trying to make up for the lost ground on the first lap, he touched to back of Enrique Bernoldi's Arrows, losing his front wing.
The Scot recovered well to finish fifth, but Dennis was not pleased with his driver's performance.
"It looks like it was a case of brain fade from David, although it is a bit premature to say so," Dennis told ITV.
Upon learning about his boss comments, Coulthard hit back at Dennis, and added they were still not sure about what caused his engine to stall.
"I think it is fair to say that Ron has had a bit of brain fade to make that comment without consulting me or the engineers first," Coulthard said.
"We are still trying to find out why the engine stalled and we're are a bit confused about that."
---