Sunday April 29th, 2001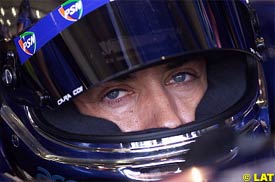 Despite having finished all five Grands Prix so far this season, Prost driver Jean Alesi still has no points to show after a tenth place finish at Sunday's Spanish Grand Prix.
Veteran Alesi, who was outqualified by new team mate Luciano Burti on Saturday, completed another solid performance today, but he was not rewarded with any points. The Frenchman hopes some modifications will improve the AP04's speed, allowing him to move up the field.
"One more race with no points at the end unfortunately," said Alesi. "We must do our best with what we have at our disposal for the moment, knowing that we will soon be ready to introduce some important evolutions in the race.
"Next week in Valencia we will test some of these modifications. We hope that they will reward the team's great efforts in the very near future."
Brazilian Burti, competing for the first time with the French team after leaving Jaguar last week, finished the race right behind his team mate. The 25-year old admitted finishing was his main goal, and so he was pleased with the result.
"The important thing for me today was to finish the race, in order to know the car better and to gather more experience with my new team," said Burti. "Therefore today's result is positive. I was struggling quite early in the race with the steering, which is not power assisted, and I am still not used to it.
"That is why I sometimes had difficulties keeping the pace. But I felt the car was really good today, and I look forward to testing this week in Valencia to learn even more and prepare for the Austrian Grand Prix."
---