Sunday April 29th, 2001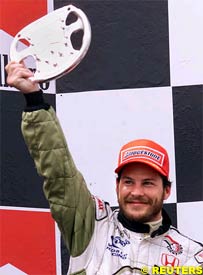 For Craig Pollock and the British American Racing outfit it was the timing more than the substance of Jacques Villeneuve's long-awaited first podium finish for the team that mattered most on Sunday after he had finished third in the Spanish Grand Prix.
As they celebrated by handing out beakers of champagne, the managing director and the 1997 world champion both admitted that their maiden top-three result after 36 attempts had lifted a weight off their shoulders -- and given the whole enterprise fresh impetus.
Pollock said: "The emotional feeling is unbelievable and that's just for third place because we know what it takes to get up there, how far it is and it came at exactly the right time."
Only 24 hours earlier, there had been mutterings of protest after Villeneuve, frustrated at his long wait for any real success with the team, had complained of brake problems and poor reliability, hinting heavily that things within the team were not as good as they should be.
"That put a lot of pressure on everyone, but it was necessary pressure," admitted Villeneuve's race engineer and friend Jock Clear. "And everyone showed in this race how we react to that kind of pressure. It was just the right result and at the right time."
Greater Purpose
Villeneuve, himself feeling the heat from new arrival Frenchman Olivier Panis in the team this season, worked with extra diligence and greater purpose this weekend, said Clear. And it worked for him and for the team.
"It is great," said Villeneuve, 30, having delivered his first podium finish since finishing third for Williams at the Hungarian Grand Prix in 1998. "Everybody in the team has worked extremely hard over the last three years and this result was much-needed for all of us.
"It was a hard race and we know we still have a lot of work to do, but this result is a really positive step forward. We really couldn't have gone any quicker today. The car was hard to drive, but it looks like it was difficult for everybody, so we're a little bit lucky that a few cars dropped out."
Villeneuve admitted also that he had needed a wake-up call in the race to bring him to his best.
"The start was okay, but I braked very early into turn one and Juan (Montoya) got me there. It woke me up. So, I was awake then for the rest of the race!"
He admitted, too, that he was surprised, but pleased when he saw the race leader, Finn Mika Hakkinen, stopped at the side of the track having retired his McLaren Mercedes-Benz on the final lap.
"I was just trying to count how many times he had lapped me and if there were enough laps to get back," he said.
---