Sunday April 29th, 2001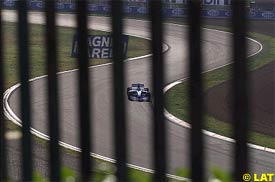 The Benetton team continued to show their unimpressive form at Sunday's Spanish Grand Prix at the Circuit de Catalunya, but at least both their drivers were able to finish the race, which was a significant step forward, according to the team's technical director Mike Gascoyne.
Italian Giancarlo Fisichella spent the first part of the race trying to keep Minardi's Fernando Alonso at bay, but at the end, the Spanish moved ahead leaving the Roman in 14th spot. Team mate Jenson Button finished right behind Fisichella, three laps down.
Despite their lack of pace, Gascoyne claimed having both cars crossing the finish line was a significant improvement.
"We said that at this stage of the year it was important to have reliability and race finishes," said Gascoyne. "Treating this race as a test session we would like to have done slightly more laps than we managed, but one very positive note is that we had perfect engine reliability for the whole weekend, which is a very significant step forward."
"What can I say?," added Button. "I know I am repeating myself, but we just have to hang in there and be patient even though the only thing we want to do is to win. From my own point of view I am constantly gaining experience, even if it is towards the rear of the field at the moment."
---