Sunday April 29th, 2001
By Alan Baldwin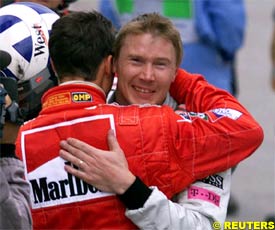 Formula One can play the cruellest tricks, as a disbelieving Mika Hakkinen discovered at the Spanish Grand Prix on Sunday. The two times champion was coasting to victory, more than 40 seconds ahead of Ferrari rival Michael Schumacher in second place, when his luck deserted him on the last lap.
Smoke, then flames, began to spew from the McLaren as the Finn tried desperately to coax the car through the final few curves to the finish before the German could catch him. There was nothing he could do.
In a matter of minutes, he had gone from thinking about a victory that would have turned his season around and revived his fading championship hopes to the depths of despair.
"It looks like there was some problem with the clutch, there was nothing that I could do to try to save the situation," he said later in the paddock. "I tried to make some adjustments in the car to try to reduce the problems that I was experiencing. But it didn't make any difference."
Hakkinen admitted he had thought about what the victory would mean for him as he was heading for the finish.
"I thought about it. I thought 'Wow, I'm going to win for the fourth time in Barcelona. If that happens it's incredible," said Hakkinen, who led his team mate David Coulthard to McLaren one-two finishes for the past three years. "Then on the last lap I said 'Okay, now I understand, it can't be this good to be true.
"I was changing different adjustments and the gearbox and the whole car was accelerating sometimes extremely aggressively. I nearly spun off once," he added.
Real Winner
Schumacher told a news conference that he had commiserated with his great rival afterwards while Coulthard said Hakkinen was the moral victor at least.
"I went to see him. It's not the way you like to win a race but it happens," said triple champion Schumacher, who now leads the championship by eight points after five races. "I am simply sorry," he said.
The last driver to lose on the last lap in such dramatic circumstances was Briton Nigel Mansell, who was waving to the crowd in Canada in 1991 when the revs dropped and the engine died. The Finn said he might have had a chance had the clutch exploded just a few curves further on, a mere matter of seconds.
"Sometimes things just don't go like you want them to go," he reflected.
The failure to score points at a race that launched his fightback last year hit Hakkinen hard, with just four points in five races to his credit in 2001. He is now a huge 32 points off the lead. He finished fourth at the last race, the San Marino Grand Prix, but before that had stalled on the grid in Brazil and retired after 25 laps with a suspension problem in Australia after qualifying third on the grid.
He said: "Of course I'm worried about it (his position), it's absolutely natural, but I'm not losing my belief that I can still win it. I just have to count the points all the time and when I no longer have the possibility to win this season we have to change to different targets for this year.
"But until that moment I have to push and fight as hard as I can."
---