Sunday April 29th, 2001
By Alan Baldwin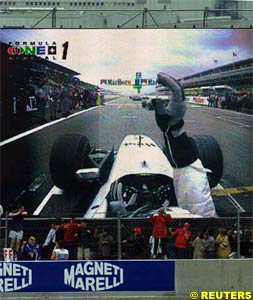 David Coulthard felt like packing up and going home after a nightmare start to the Spanish Formula One Grand Prix on Sunday. But in the end his luck was nowhere near as bad as his McLaren team mate's.
While Mika Hakkinen had victory snatched from his grasp by clutch failure on the last lap within seconds of the finish, Coulthard successfully fought his way back from last on the grid to a creditable fifth. And that, while far less than he might have hoped for after qualifying on Saturday as the third fastest, was more than he expected in the early laps.
"I really believed I could make a good start there against Michael (Schumacher)...I was just beside myself with frustration," declared Coulthard.
The Scot's car had stalled at the start of the formation lap, something he said the new electronic software introduced in Barcelona after being banned since 1993 was supposed to have prevented. He was then involved in a collision with the Arrows of Brazilian Enrique Bernoldi, forcing him to make a pit stop to have a new nose fitted on the McLaren.
"This was a nightmare scenario, stalling with the green flag, getting involved in a crash at the first corner," he said.
When he rejoined the race, he was more than a minute off the pace set from pole position by Ferrari's early leader and eventual winner Schumacher. He also had plenty of backmarkers to get past. Coulthard admitted that he almost lost heart at that point, after starting the race as joint championship leader with Schumacher on 26 points. He is now eight adrift.
"I was so frustrated I just wanted to throw the car in the gravel and go home," he said.
Back Marker
"But you've got to try and keep your head under control and focus and that's what I did and I just had to concentrate on scoring points. Scoring points, that's a great result. You have to take it as it was and I consider myself lucky."
He said that starting at the back of the field had been an eye-opener, an experience that left him wanting to commiserate with Briton Jenson Button, whose Benetton has left him battling at the back in recent races. Coulthard did derive some pleasure from his race too.
"Despite the fact that I knew I was riding out my frustration at what might have been, I did enjoy the fact that I was able to practise my overtaking," he said.
One of the well-set-up moves which made him particularly proud was the pass he made on Sauber's young and apparently inexperienced Nick Heidfeld after the last corner of the lap.
"The lap before the pass I really tried to hustle him through that corner and overdid it and I lost my momentum," said Coulthard.
"Then we were catching the Benetton and I was thinking if I was him I would hold me up in turn 11 which is the hairpin, so he got a run at the Benetton on the straight, but he didn't.
"He hustled up to 12 got too close to him through 13 and then lost his momentum on the straight. I just sailed through, pulled out and picked off the Benetton. You know - candy from a kid!"
And he discovered that the sight of a silver McLaren in the rearview mirrors can have a surprising effect on other drivers used to being lapped in the past. Coulthard said Frenchman Olivier Panis, in a BAR, had moved over to let him go through under the mistaken impression that he was being lapped by the McLaren.
"His team, if they were really switched on, would have been on the radio saying 'Olivier, inside information, you're racing the guy behind you'. But they didn't, he looks in his mirror, sees a McLaren and automatically moves over."
The Scot said the start problem had not been his fault, and his team confirmed it later on.
"The boffins were standing there scratching their heads because these engines shouldn't and can't stall," he said. "Was it my mistake? No. Was it a system mistake? Yes. Do we fully understand it at this time? No."
Ironically, Coulthard had warned on Saturday of the likelihood of some cars being left stranded on the grid by gremlins in the electronic systems that control the start.
"It's just bloody frustrating because I'm the only one left sitting there," he said. "It's never happened to me before. We had one stall, when we had a practice pitstop with the traction control, and we thought we understood the reason for that. But with all the launch control starts, we haven't had that problem."
---