Sunday April 29th, 2001
By Alan Baldwin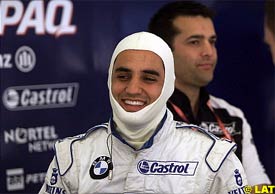 Colombian newcomer Juan Pablo Montoya's Formula One career to date is easy enough to sum up as podium or bust. The Williams driver finished a race for the first time on Sunday, taking second place in the Spanish Grand Prix and ending a run of four successive retirements.
Only the second Colombian ever to drive in a Formula One race, Montoya became the first from his country to take points and a podium place.
"What a way to do it," said Williams technical director Patrick Head. "It is a great result for Juan Pablo, starting from 12th on the grid and finishing on the podium. He made a great start and drove a good race, controlling the gap to the cars behind him."
Former U.S. CART champion Montoya has taken Formula One by the throat this season, leading the Brazilian Grand Prix at the beginning of April for more than half the race before he was dumped out by Dutchman Jos Verstappen. That crash and a retirement in the San Marino Grand Prix two weeks ago prevented him from opening his account in the championship until Sunday.
But such is his burgeoning reputation in a sport not short on hype that the monthly F1 Racing magazine put him on their latest front cover with the headline "Golden Boy" over the words "You're looking at F1's new megastar."
In truth, his second place on Sunday was also due in large part to the non-finishes of McLaren's race leader Mika Hakkinen, Brazilian Rubens Barrichello in the Ferrari and his own German team mate Ralf Schumacher.
"But that's racing," said Head.
Surprised
Montoya admitted he was surprised to end up where he did but was excited to see the Colombian flag raised for the first time in an arena that has seen Brazilian and Argentine colours fluttering plenty of times.
"The first four races have been very hard for me," Montoya said. "We have been competitive in some of them and not so much in others. Here I wasn't expecting to be on the podium really.
"The start was really good and moved me up a lot of places and then I just kept pushing all day long. I thought it was going to be a lot more difficult."
BMW Motorsport director Mario Theissen said Montoya's podium was the team's second highlight after Ralf's first career win at Imola two weeks ago. That was the first win for resurgent Williams since 1997 and confirmed that the team was back on the right track after gathering force in 2000 following a year in the doldrums.
"This time it happened with thanks to some luck, but you have to earn your luck," said Theissen. "We weren't as well prepared here as in Imola."
Montoya, whose father happily sipped champagne in the paddock afterwards, agreed with that. He said: "The car was quite tricky to drive and compared with Michael (Schumacher) and the McLarens as well, they're in a different league this weekend. There's a lot of work to be done for the next race.
"We never really got the car handling the way I wanted and I think on TV you see the car was sliding a lot," he added. "It made my laps a bit difficult. I wasn't trying to beat the lap record but all day long I was pushing 100 percent."
Montoya said he was surprised when Ralf spun but had suffered braking problems all weekend. "I had a big moment where he spun actually and after that I decided to back up a little bit."
---