Monday April 30th, 2001
By Alan Baldwin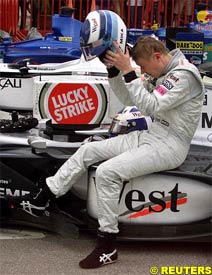 Mika Hakkinen vowed to fight on to the bitter end after the heartbreak of having his McLaren break down in smoke and flames seconds from victory in Spain at the weekend. But the resilient Finn, two times a Formula One world champion for McLaren, will need to muster all of his mental strength in the coming Grands Prix to keep alive his title hopes.
Never before has Hakkinen stared at such a gaping points deficit this early in a season in which he has been a title contender. Although he came back from 22 points down last year to challenge for the title, Hakkinen is now a hefty 32 points behind Ferrari's world champion Michael Schumacher.
Schumacher was Sunday's surprise race winner after inheriting the Finn's lead only five bends from the chequered flag. Hakkinen is also 24 points behind team mate David Coulthard after five of the championship's 17 races.
Hakkinen admitted before the Spanish Grand Prix, a race he has won for the last three years in a row, that he would have a hard time in trying to claw back the existing deficit after securing just four points to date. While the Finn proved conclusively that he is no spent force but still very much a potential winner, his task has now become Herculean.
When he headed for the last lap at the Circuit de Catalunya, the McLaren driver thought his luck was about to change with his first win since August last year. Then the clutch exploded and he pulled over.
Not Superstitious
After an initial outburst of frustration, Hakkinen put a brave face on what had happened.
"I'm not superstitious," he said. "Of course I'm worried about it, it's absolutely natural, but I'm not losing my belief that I can still win it (the title).
"I just have to count the points all the time and when I don't have a mathematical possibility to win any more this year then we have to change to different targets for this year. Until that moment I have to push and fight as hard as I can."
Hakkinen's team mate David Coulthard could consider himself lucky in comparison with a fine fifth place after he stalled and was forced to start at the rear of the grid. He is now second in the overall standings, eight points adrift of Schumacher. But he also considered himself still in the thick of the action despite Schumacher's third win in five races.
"We heard the Ferrari was struggling obviously through the middle part of the race and it could quite easily have been a McLaren one-two," Coulthard said. "We've just got to actually go out there and try to get the result in Austria.
"He (Schumacher) is still catchable so I'm not to concerned about that, I still managed to score points. The interesting thing to me is that he wasn't the real winner of this race today. Mika obviously was and I think I was quick as well."
Schumacher had problems with his tyres after his second pit stop but rejected suggestions that Ferrari might have creeping reliability difficulties.
"I am not concerned at all by what happened in the last stint with the set of tyres," he said. "I'm pretty sure we will find the reason and solution for that."
---