Tuesday August 7th, 2001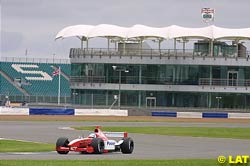 While the current Formula One teams are on a summer break, forbidden to run any testing, newcomer Toyota began today a 3-day testing session, running for the first time in Silverstone, England.
The German-based Japanese team ran both Mika Salo and Allan McNish, both drivers' progress hampered today by dust on the track as well as rain interruption.
The best time of the day went to McNish, who set a time of 1:31.64 - over 11 seconds slower than this year's pole position time, set by Michael Schumacher last month.
Salo, who finished under two tenths of a second slower than McNish, looked somewhat unsatisfied at the end of the day, hinting Toyota's progress may be a tad too slow.
Mika Salo has hinted at dissatisfaction over his team's ambitions as they continue development testing in preparation for their Formula One debut in 2002.
Salo claimed the team does not have the required urgency to improve the car from its current five seconds off the pace. "At the moment little things are taking too long," the Finn said. "Not just on the car but with the team. And we always have to waste the first day to clean the circuit because cars have not run on the circuits for some time.
"I am 100 percent sure that the engine is great be we have to improve a lot in other areas. The team just want to be in the race but I want to do well when I am going racing."
Published at 19:08:16 GMT
---