Friday August 10th, 2001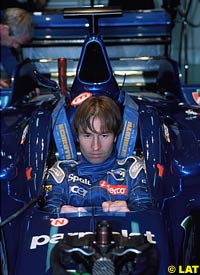 Heinz Harald Frentzen had a first run with the Prost car today, as he completed a shakedown before the Hungarian Grand Prix next week, where he will make his Prost debut.
The German completed the 50 kms allowed at the Magny Cours track, also practicing starts and getting familiarised with the car's various electronics systems. No lap times were released from the session.
Frentzen, who was sacked from Jordan Grand Prix just over two weeks ago, spent the last few days at the Prost factory in France, getting acquainted with his new team. Today, after his first drive, he said he was optimistic yet cautious.
"I'm very motivated, but everyone must be patient because of all the new things that I must get used to," Frentzen said. "There were quite a lot of question marks because there hasn't been much time to get used to things. So far so good. We had a good first day."
Frentzen swapped cars with Jean Alesi, who will also get a chance to try out his new car before the upcoming race, when he shakes down the EJ11 at Silverstone on Monday.
Published at 22:11:51 GMT
---