Monday August 13th, 2001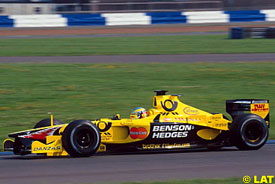 Frenchman Jean Alesi has admitted he has signed a contract to stay at the Jordan Grand Prix team until the end of the 2002 season.
37-year old Alesi, who joined the Silverstone-based team last week from Prost, will replace Heinz-Harald Frentzen in the last five races of the 2001 season following the German's unexpected dismissal from Jordan.
Though Alesi's manager Mario Miyakawa said the Frenchman was holding talks with Jordan in order to reach a deal to drive for them next season, the former Prost driver has admitted he has already signed a contract to drive for Jordan in 2002.
"Eddie [Jordan] called me to asked me if I was available until the end of the season," Alesi told TF1. "In fact, I signed for 2002, as well. I am therefore racing for Jordan for the last Grands Prix of 2001, but I will also race for him in 2002."
Alesi has scored four points with Prost this season, but has openly admitted he is hopeful of doing much better with Jordan in the remaining part of the year.
Published at 10:18:00 GMT
---