Monday August 13th, 2001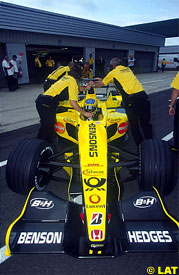 French driver Jean Alesi was pleased with his progress following his first test behind the wheel of the Jordan-Honda EJ11, as the veteran driver completed a shakedown before this weekend's Hungarian Grand Prix.
Alesi, who joined Jordan from Prost last week, was forced to limit his running to 50 kilometres due to FIA testing regulations, and completed a total of 18 laps around the Silverstone circuit. The Frenchman admitted after the test that he was pleased with the car.
"I've had a busy and productive day as there was a lot to learn about the car," said Alesi. "Although we could only complete a total of 50 kilometres as it was a shakedown, we made some good progress.
"We mainly concentrated on my seat and driving position to make me feel comfortable in the car and it was good to work with my car crew and engineers so we could get to know each other.
"The EJ11 feels very good to drive so I'm really looking forward to the Hungarian Grand Prix to experience its true potential and race in a car that has proved to be very competitive."
No times were issued by the team.
Published at 18:15:31 GMT
---