Thursday August 16th, 2001
By Alan Baldwin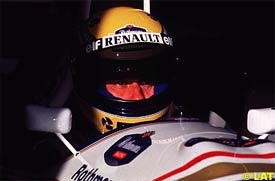 The names, some freshly scrawled and some faded, mark the rough walls around the Hungaroring. The Mika Hakkinen supporters have been busy with their paint pots, understandable at what amounts to a home circuit for the Finn, as have those urging on Michael Schumacher.
And then there is always Ayrton Senna.
The late Brazilian won the Hungarian Grand Prix three times, more than any other Formula One driver, before his death in 1994 and the memory of his greatness still shines brightly. It may be Alain Prost's record of 51 wins that Schumacher hopes to equal in the Hungarian heat on Sunday afternoon as well as the Frenchman's career tally of four world titles.
But while Ferrari's current champion is justly acclaimed as the greatest driver of his era, his achievements are as likely to be measured against Senna's as those of the 'Professor'. Schumacher has won 50 Grands Prix from 156 starts and one more win will make him only the third driver to take four titles - he and Prost will be one behind Argentine Juan Manuel Fangio.
Senna, who died at Imola aged 34, won three Championships and 41 Grands Prix from 161 starts. Prost's 51 came from 199 races. Schumacher may have got there faster but, despite his unquestioned place among the all-time greats, the statistics paint only part of the picture.
Williams
Nobody doubts that Senna, had he not perished at the San Marino Grand Prix, would have surpassed Prost's record by some distance in the closing years of his career. It is equally likely that he would have added to his tally of titles.
The Brazilian was in his first season at Williams, whose cars secured two drivers' and three constructors' crowns in the four seasons immediately after his death. Briton Damon Hill missed out on the 1994 title by one point to Schumacher, winning six races in the immediate aftermath of Imola.
Senna also had Prost as teammate and rival at McLaren, as well as Austrian Gerhard Berger later on, whereas Schumacher has always been top dog at both Benetton and Ferrari. To be fair to Schumacher, he has never tried to force the comparisons made by others and he has also won many of his races in cars that were not the dominant machines on the track.
His tactics, particularly his 1997 season-ending collision with Canadian Jacques Villeneuve, may have blotted his copybook but the greats of the past were no angels either.
"Schuey's just like Senna and Prost. He has a natural gift and the incredible self-belief that goes with it," says former teammate Martin Brundle in James Allen's recent biography of the German. "These guys are winners who will push the limits beyond everyone else. They have the most intense, almost dangerous desire, and need, to win at all costs and somehow they convince themselves that they are not wrong."
Senna's influence on Schumacher is undoubted and the German was right behind the Brazilian when he crashed at Imola. He wept openly in the post-race news conference at Monza last year when he equalled Senna's 41 wins.
"It was Ayrton. I was remembering Ayrton. I still have very strong emotions towards him," he admitted later.
Sunday could be another great day for Schumacher but, whenever it comes, 51 is likely to prove a less emotional number than 41.
Published at 13:04:36 GMT
---